Edwin Heathcote is the architecture critic for the Financial Times, authoring a column entitled 'The Symbolic Home', which is where many of the essays contained in this book started life. While each essay is my no means comprehensive, he does cover every conceivable detail of houses, everything from door handles to walls, every decorative or functional element is examined, even down to the pipes and wires.
Heathcote brings together the etymology of the house, how the function of things have changed over time, copious references to literature, film and psychology as well as architectural and social history. In fact, while there's a huge amount of information packed into this small book, it still remains highly readable and easy to follow. While the contents of the book are engaging and in places surprising, the cover is far less so. I know this is a minor point but bad book design bothers me as much as bad design in anything else and this slightly twee drawn door just doesn't do justice to the substance of the book. Tellingly I couldn't find a credit for the cover artwork, although the William Morris-esque endpapers are a nice touch.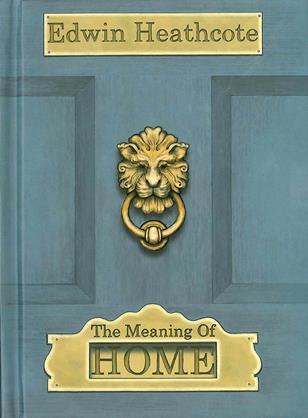 Anyway, lets get on to the book itself. "What does a home mean?" is the question Heathcote poses at the very start of the book. As it turns out, it's far more complicated than you might imagine. Beyond being a place of shelter, somewhere to eat and sleep, everything about the house, the architecture and every decorative or functional element has layers of meaning and history that have been lost over time. I guarantee after reading the chapter on ceilings, you'll never lay in bed staring at yours in the same way ever again.
The author often leads the reader to question those every day things, like ceilings, things we take for granted. I mean, who has the time to contemplate door handles at length? To many people door handles are a thing of functional necessity and I expect the average person (interior design aficionados and architects aside) doesn't give them much thought, except when they cease to function as they should. To many people, the door handles in their home are not even a choice and either they can't or don't want to, spend the money to replace every handle and latch with something better looking, or of better quality. If your home is rented, you're likely to have either old handles, or if your place has been renovated any time in the last 10 years, the most standard and cheapest option available at the time. Ironmongery is elevated to a much higher importance by Heathcote though, he quotes Finnish Architect Juhani Pallasmaa as saying that the door handle is the 'handshake of the building' and goes on to highlight that is the part of our buildings we come in to contact with the most (along with light switches and handrails). It''s at this point you realize that coming in to contact, on a very regular basis, with what could be the ugliest, cheapest, piece of hardware is a pretty sad state of affairs. In the same way that spending a day at a furniture fair, touching beautifully finished solid wood pieces made me want to throw out every piece of Ikea furniture I'd ever bought, I suddenly wanted to have something more satisfying to open my doors with. It's also the reason I replaced the measly plastic pull in my bathroom with a sturdy metal and rubber one as soon as I moved in. As Heathcote puts it:
"

Ironmongery presents us with one of the few moments when we are forced to physically and haptically engage with the building, so perhaps it's surprising that most dwellings by default feature standard, mass-manufactured and shoddily-designed products that tell us little or nothing of the way we use a building, about the rituals or meanings of passing from one space to another or about the way we use them"
I only have two problems with this book, the first being the cover as I've mentioned before, the other is the authors overriding preoccupation with finding Freudian meaning in our homes. He's especially obsessed with doors, knockers and knobs (yes, really) but especially by the act of putting keys into locks. It's a small book, and he harps on about this far too frequently. It's OK... we got it the first time. All of this aside, to almost every one else the front door lock is merely a devise to keep unsavory types from stealing your TV and rifling through your knicker drawer while you're out. Likewise a stair is just a stair, a device for moving from one level to another. Yes stairs have symbolic meaning from ancient temples, but by chapter 9 I'm already tiring of sentances like:
"Freud of course, associated stairs with sex. 'Steps, ladders or staircases' he wrote 'or, as the case may be, walking up or down them, are representations of the sexual act.'"
It's worth persevering tough because in chapter 10 you get a brilliant essay on cellars and attics, littered with film references and insights into Modernist architecture as well as reference to great writing like Bachelards 'The Poetics Of Space'. In this sense the book serves as a great introduction to a subject with a much wider scope, and gives the reader an excellent bibliography from which to start exploring.
Another highlight is chapter 6, on books:
"Books are, like bricks, a basic element of architecture. I wasn't quite aware of this myself until I viewed a couple of properties recently and was struck, and appalled, by the lack of books inside. No Books. Not one. The interiors, otherwise impeccably over designed, seemed painfully incomplete. Bereft."
I couldn't agree more and it's gratifying to see a chapter devoted to books and the issues of their storage. Apparently Samuel Pepys was so obsessed with regularity that he had "...little platform soles made of wood to place beneath shorter volumes so the whole row would reach the same height". It's brilliant connections and insights like these that make this book such a treat.
Overall it's a great book, well written (Freudian obsession aside) and the length of the essays makes it easy to dip in and out of, or go back to and re-read. It's perfect for anyone with a near-obsessive level of interest in interiors, architecture or historical detail as well as those who just want to start thinking more about about the spaces we inhabit.
'The Meaning Of Home' by Edwin Heathcote is available in hardback, priced £12.99 and published by Frances Lincoln